FBHA National Recovery Month Resource Center

National Recovery Month is held every September to educate people about how substance use and mental health services can enable individuals and their families. It promotes the benefits of prevention, treatment and recovery for mental and substance use disorders. It celebrates those who have overcome substance-use disorders and encourages those in the fight.
Once sponsored by the Substance Abuse and Mental Health Services Administration (SAMHSA), National Recovery Month is now under Faces & Voices, a member of the National Recovery Community.
The theme for 2020 National Recovery Month is Join the Voices of Recovery: Celebrating Connections.
Florida Recovery School River Oak Center
"The center and its students showed their resilience in the spring when the pandemic forced Duval Public Schools online. River Oak's academic program was already largely virtual, overseen by an in-person teacher.
Students quickly adjusted to interacting with their teacher and online school work from home rather than the center and attending their 12-step, abstinence-based counseling and support group sessions via Zoom."
Operation PAR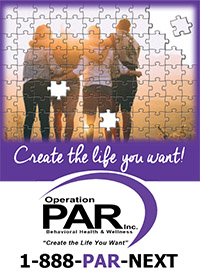 Operation PAR has a brochure that highlights all of the different recovery treatments it offers.
Download the brochure here