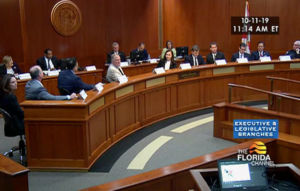 Florida's new Statewide Taskforce on Opioid Abuse held their first meeting today. Governor Ron DeSantis established the Opioid Taskforce by Executive Order 19-97 earlier this year. Attorney General Ashley Moody serves as committee chair. Immediately prior to the committee meeting, Moody said, "It is absolutely imperative that we have a statewide coordinated strategic effort to make sure we are implementing those practices around the state that are based on science and data." The twenty-one member committee also includes FBHA member Mary Lynn Ulrey, CEO of DACCO, and FBHA President Melanie Brown-Woofter.
The overarching purpose of the taskforce, as defined by executive order, is to research and assess the nature of opioid drug abuse in Florida and develop a statewide strategy to identify best practices to combat the opioid epidemic through education, treatment, prevention, recovery and law enforcement. More specifically, the taskforce is to study the cost of the crisis on state and local governments, identify available programs that have been successful in combating opioid abuse, work to better understand the sources of addiction, explore whether there is need for additional regulatory activity, evaluate and identify ways to reduce the demand for opioids and decrease the supply, and determine if law enforcement would benefit from new training or resources to help equip them to handle opioid users.
During the first meeting, the members listened to reports on the current state of Florida's opioid crisis. They also selected Seminole County Sheriff Dennis Lemma as the new Vice-Chair of the committee. He was instrumental in the Opioid Work Study Group Report that helped to create the new Opioid taskforce.