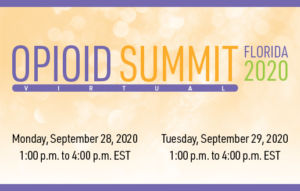 REGISTRATION IS NOW OPEN!
The Florida Alcohol and Drug Abuse Association, a subsidiary of the Florida Behavioral Health Association, and the Florida Department of Children and Families Office of Substance Abuse and Mental Health, invite you to mark your calendars for the 2020 Virtual Opioid Summit.
The 2020 Opioid Summit will take place online. The goal of the Summit is to provide a forum for discussion of intervention, treatment, and recovery support strategies that effectively serve individuals with an Opioid Use Disorder (OUD).
Day 1
Florida Response Overview and Medication-First Models
Monday, September 28, 2020
1:00 p.m. to 4:00 p.m. EST
Florida Opioid Response Overview including a view towards 2020-21
Florida Trend Data
Medication First Model Panel of Providers
Implementing Medication First Model – Challenges & Opportunities Discussion
Day 2
Engagement & Retention for Opioid & Stimulant-use Disorders
Tuesday, September 29, 2020
1:00 p.m. to 4:00 p.m. EST
Retaining Patients in Treatment
Engagement & Retention Strategies – Medication Assisted Treatment (MAT) for Opioid Use Disorder: Innovative Models for Enhancing Retention and Continuity of Care
Retention Strategies Across Florida Discussion
Treating Stimulants
For the most up-to-date information, visit the 2020 Opioid Summit webpage here
091620